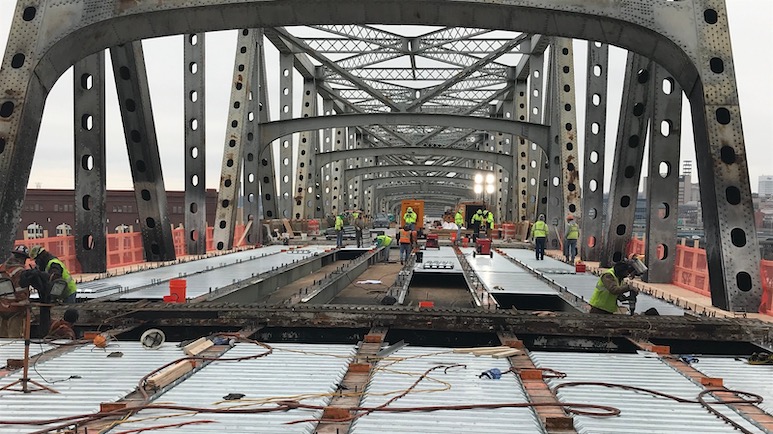 Crews work to repair the Brent Spence Bridge. (Photo Courtesy of Kentucky Transportation Cabinet)DECEMBER 16 2020
https://www.aisc.org/modernsteel/news/2020/december/steel-to-the-rescue-with-16-stringers-in-only-18-days/
On November 11, a fire resulting from a semi-truck crash damaged the upper and lower decks of the Brent Spence Bridge between Covington, Ky., and Cincinnati. The 1960s era steel truss carries interstate traffic over the Ohio River. Sixteen steel stringers were procured, fabricated, and installed 18 days later allowing for a safe and speedy bridge repair.
The Kentucky Transportation Cabinet (KYTC) plans to reopen the Brent Spence Bridge to traffic on December 23, working with deliberate speed, efficiency, and safety in its repairs. You heard that right—just over a month after the fire. National and local experts have come together to inspect the structure, perform material testing, and develop and implement the repairs, making this impressive timeline possible.
The upper concrete deck and two bays of steel stringers required complete replacement. By November 17, the bridge repair team procured 16 replacement wide flange beams for the stringers from service centers and delivered them to Bottoms Engineering and Service, Inc., an AISC certified member fabricator. The Frankfort, Ky., fabricator completed work on the steel stringers and delivered them to the jobsite in two shipments on November 25 and 27.
AISC certified steel erector Kokosing Construction Company completed the installation of the steel stringers on November 29. Metal stay-in-place deck forms and steel reinforcing permitted the placement of the concrete deck on the upper deck during the second week of December. Additional repairs to the roadway surface on the lower deck, as well as to the electrical and drainage systems, will complete this critical bridge repair.
Follow along as the KYTC and all of its partners finish the Brent Spence Bridge repair here.