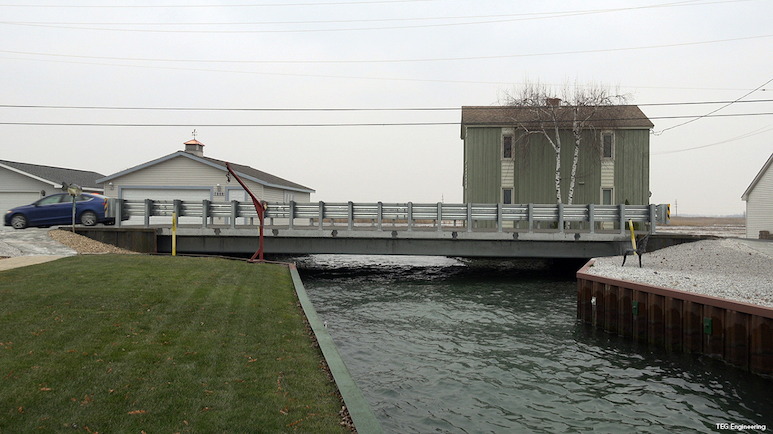 Anchor Bay Drive, a 2020 Prize Bridge Award winner, along Lake St. Clair in Clay, Mich., is a press-brake-formed tub girder bridge. (Photo Courtesy of TEG Engineering)JANUARY 6 2021
https://www.aisc.org/modernsteel/news/2021/january/aashto-selects-steel-press-brake-formed-tub-girder-as-a-2021-focus-technology/
The American Association of State Highway and Transportation Officials (AASHTO) Innovation Initiative (AII) selected the steel press-brake-formed tub girder (PBTG) bridge system as a 2021 Focus Technology. AII will invest time and resources to accelerate the adoption of PBTG among AASHTO member associations, local agencies, and industry partners to improve U.S. infrastructure.
Researched and tested by the Short Span Steel Bridge Alliance (SSSBA), the PBTG is an accelerated bridge construction system consisting of modular galvanized shallow trapezoidal boxes fabricated from cold-bent structural steel plate. The National Steel Bridge Alliance (NSBA) is a member organization of SSSBA.
"We are honored to have PBTG selected and thank the AII selection committees for their recognition of its economical and sustainable benefits," said David Stoddard, senior steel applications engineer for SSAB Americas and chairman of the SSSBA. "Since AII advances innovation from the grassroots up, this opportunity will fast-track this economical system further into the mainstream, providing an optimal steel solution to meet the nation's infrastructure challenges."
Learn more about the 2021 AII Focus Technology and the PBTG system here.